Musikfest CashCard FAQ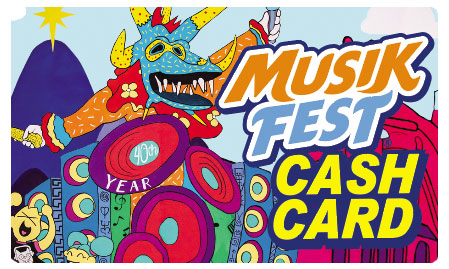 Credit/Debit cards and Musikfest CashCard cards are the only two forms of payment accepted for food and beverages at 2023 Musikfest*. Musikfest CashCard cards will be used to convert your cash for an easy payment process.
*SteelStacks Campus on the South Side will also accept cash, but no cash is accepted in any other locations at the festival.
WHAT IS A MUSIKFEST CASHCARD?
To be inclusive for all, patrons will be able to convert their cash into recyclable and reloadable CashCards at several locations throughout the festival. The Musikfest CashCard is a cashless option for food and beverages that uses gift card technology for an easy payment process at all food, beverage, and Official Musikfest Merchandise retail locations.
DO I NEED TO GET A MUSIKFEST CASHCARD?
NO! You do NOT need to get a Musikfest CashCard if you already have a credit or debit card. If you have a debit or credit card you can go directly to your favorite Official Musikfest food vendor or beverage stand and official Musikfest merchandise location to make your purchase.
DO I STILL NEED TO BRING CASH WITH ME TO THE FESTIVAL?
NO! Since credit and debit cards are accepted everywhere on the festival grounds, you do not need to bring cash with you.
HOW DO I GET A MUSIKFEST CASHCARD AT THE FESTIVAL?
There are designated Reload Booths where you can convert your cash to a CashCard. The Reload Booth locations are on the northside: Festplatz, Familienplatz, Plaza Tropical and Main Street.
WHERE CAN I USE MY MUSIKFEST CASHCARD CARD?
Musikfest CashCard is accepted at all Official Musikfest food, beverage and retail locations throughout the festival. Musikfest CashCard is not accepted at Handwerkplatz by the crafters or at any of the local bars, restaurants, or retailers
CAN I STILL PAY FOR FOOD AND BEVERAGES WITH CASH OR CREDIT CARD?
You may use your credit or debit card at all food, beverage and retail locations, but cash is only accepted on the SteelStacks Campus (South Side).
HOW DO THE CARDS WORK?
If festival goers only have cash, they can covert that cash to a CashCard. As you make purchases with vendors the cash is deducted from the balance on the card. At every location you can see the amount deducted and the amount left on your card on your receipt. You can check the balance left on your card by looking at your receipt after every purchase, by scanning the QR code on the back of your card, by visiting musikfest.org/festcashcards or asking anyone at any CashCard Reload Booth. If you deplete the balance on your CashCard you can always add more cash to your card balance at the Musikfest CashCard Reload Booths.
WHAT HAPPENS IF I LOSE MY CARD?
Unfortunately, if you lose your card, you will also lose all the money that has been loaded on the card.
HOW LONG IS MY CASHCARD VALID?
CashCards are valid during the entire festival through August 13, 2023. Any unused balance of money left on the card will be forfeited.
HOW DO I RELOAD MY MUSIKFEST CASHCARD CARD?
You can refill your Musikfest CashCard at any of the Reload Booths at the event.
CAN I USE MY MUSIKFEST CASHCARD EVERY DAY OF THE FESTIVAL?
The Musikfest CashCard is valid up to the dollar/cash balance on the card. As long as you have an available balance you can use your card any time during the festival! Additional cash can be reloaded anytime during the event.
CAN I GET A REFUND ON THE CASH LOADED TO MY CASHCARD THAT I DON'T USE?
All CashCard loads are final and there are no refunds.
ARE THERE ANY FEES ASSOCIATED WITH THE MUSIKFEST CASHCARD?
There are no fees associated with the Musikfest CashCard.
CAN FAMILIES USE THE SAME MUSIKFEST CASHCARD?
Yes, the same CashCard can be shared by family members, or cash can be converted to multiple cards for individual family members.
WHERE CAN I RECYCLE MY MUSIKFEST CASHCARD?
Recycle bins will be located throughout the festival at all CashCard booth locations on the northside. We encourage everyone to recycle their CashCards when they have finished using them.