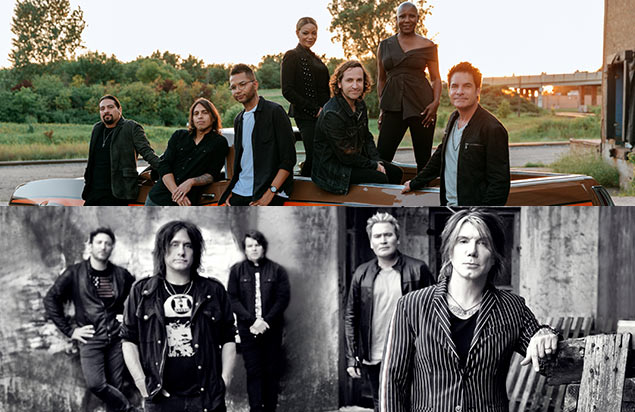 Train & The Goo Goo Dolls
with special guest Allen Stone
Tuesday, August 6 · view days & times
Price: $59-$79 | Steel Terrace: $219
Venue: Sands Steel Stage at PNC Plaza
Ticket Pre-sale:
Gates: 6:00 p.m. | Show: 7:00 p.m.
Train
Train is a multi-GRAMMY and Billboard award-winning band from San Francisco, CA that has had 14 songs on Billboard's Hot 100 list since the release of their debut self- titled album. Train's climb to the top began in San Francisco in 1994, going on to tenaciously building a loyal following, leading up to their own self- titled debut album, released by Columbia in 1998. The tumbling wordplay of "Meet Virginia" gave them their first radio hit and 2001's Drops Of Jupiter broke them to multi-platinum status thanks to the double-GRAMMY award-winning title song that spent 10 months in the Top 40, and snaring the Best Rock Song GRAMMY award by beating out Coldplay and two U2 songs. The group won another GRAMMY award in 2011 for their global hit "Hey Soul Sister," the #1 best-selling smash and most downloaded single of 2010, from their multi-platinum album Save Me, San Francisco.
Next was 2012's California 37, which launched the hit "Drive By" reaching the Top 10 in 13 countries. They've sold more than 10 million albums worldwide, more than 30 million tracks, with multiple platinum/gold citations, including 3 GRAMMY awards, 2 Billboard Music Awards and dozens of other honors. In 2014 Bulletproof Picasso—the band's 7th studio album—debuted at No. 5 on the Billboard Top 200 and earned rave reviews.
Most recently, Train has re-released their well-received holiday album, Christmas in Tahoe, which brings their signature sound to holiday classics as well as several original songs. On Jan. 27th 2017, the band released their 8th studio album, a girl a bottle a boat, via Columbia Records which spawned the lead single, "Play That Song," hitting Top 5 on the iTunes chart, Top 10 at Hot AC radio, and charting at Adult Top 40.
Train frontman, Pat Monahan, partakes in other ventures outside of music with his newly launched Drops of Jupiter® wine portfolio. Proceeds from the wine support Family House, a San Francisco charity that supports families of children with cancer and other life-threatening illnesses. Train's 2016 project, Does Led Zeppelin II, a cover album in tribute of their favorite band saw 100% of the band's proceeds going to Family House.
The Goo Goo Dolls
Goo Goo Dolls uphold an unbreakable connection to countless fans fortified by a catalog replete with unforgettable smashes such as "Name," "Iris," "Slide," "Black Balloon," and many more. To date, they've sold 12 million albums worldwide, earned three GRAMMY® Award nominations, and made history by notching 14 Top 10 hits at Hot AC—"the most of any artist in history." Notably, "Iris" dominated the Hot 100 at #1 for 18 straight weeks. Among eleven full-length records, A Boy Named Goo [1995] went double-platinum, Dizzy Up The Girl went quadruple-platinum, and Gutterflower [2002] and Let Love In [2006] both went gold as Something for the Rest of Us [2010] and Magnetic [2013] bowed in the Top 10 of the Billboard Top 200. 2016's Boxes attracted the praise of People and Huffington Post as Noisey, Consequence of Sound, and more featured them. In 2017, the You Should Be Happy EP spawned another anthem in the form of "Use Me," which quickly generated 3 million-plus Spotify streams. Their music has been covered by everyone from Taylor Swift to Leona Lewis. Additionally, they've performed for millions at sold out shows everywhere. That connection grows stronger in 2018 with the 20th anniversary tour celebrating Dizzy Up The Girl and more new music on the horizon.
Partners
Media Partners
Schedule
Venue Information
Sands Steel Stage at PNC Plaza
Musikfest
SteelStacks Campus (South Side)
Bethlehem, PA 18015
610-332-1300
map & directions